It's that time of the year again. The sun is out, the air is warm and salty and the sea is calling your name. It's time to put on a cute bikini, smother yourself in sunscreen, grab your favorite pair of sunglasses and go to the beach. It's easier said than done though. We all know that choosing a perfect swimsuit isn't an easy task. There's so much choice out there and it's so hard to choose just one. So why limit yourself? Live a little, get as many swimsuits as you want — one for each day of the week and wow people with your beach style.
To many it a little easier for you, we've compiled the cutest bikinis of 2016 into this neat little list. This year you'll see a lot of high neck crop tops, high waisted bottoms, sporty swimsuits, strappy swimsuits, swimsuits with cutouts and all sorts of geometric and fun patterns. Take a look and see which ones appeal to you the most.
1. Pineapples are the most summery fruit ever, so let's start with pineapple prints. Here's a fun, bright option.
2. If you prefer minimalist chic, here's a more sophisticated pineapple swimsuit.
3. One piece pineapple print swimsuits.
4. Plunging V printed one piece swimsuits from Urban Outfitters.
5. Spring Time Miami Monokini.
6. High-neck bikinis in floral, palm tree and Aztec patterns.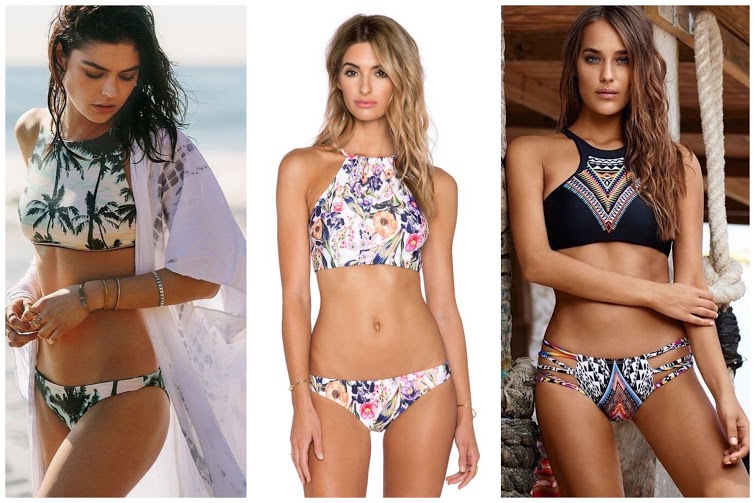 7. Geo-print high-neck halter top bikini from Macy's.
8. Strappy burgundy bikini set. Sexy and sophisticated.
9. Somedays Lovin crochet hook & eye side one piece-swimsuit.
10. Strappy bikinis. Because who doesn't want multiple tan lines?
11. Swimsuits with geometric patterns are all the rage this season.
12. Lace up swimsuits. It's like a corset, but comfy.
13. Bikinis with crochet details. Very elegant and unique.
14. Crossover bikinis will make your cleavage look incredible.
15. Mesh swimsuits. For those who want to look more intriguing.
16. Printed mesh swimsuits. Did you know those existed?
17. Surfer chic. Not only functional, but also super pretty bikinis for surfer girls.
18. Cheeky flesh colored mesh swimsuits with a strategic print.
19. Donut bikini for those with a sweet tooth.
20. More food themed swimsuits. For those with a sense of humor.
21. Cactus crop top bikini. It's cute and quirky.
22. Shark bikinis, for those who like to live on the edge.