A designer in the Netherlands
is turning delicious foods into accessories (mostly purses and clutches), and we are obsessed with it. The pieces are so realistic, you'll be startled and need to take a second look. They're available on
Etsy
and a bit expensive (since they're painstakingly handmade) and make the perfect gift (or treat-yo'self purchase!)
1. Nothing hits the spot like a massive, cheesy slice of pizza. This pepperoni slice is oh so dreamy and you don't have to worry about junk food calories, because you can rock your love for carbs as a fashion statement instead!
2. The designer experimented with some food in motion here, and it turned out absolutely breathtaking! A falling bowl of fruit loops in milk has never looked so good! We like it way better in this form as opposed to on our counter, and want this clever purse immediately.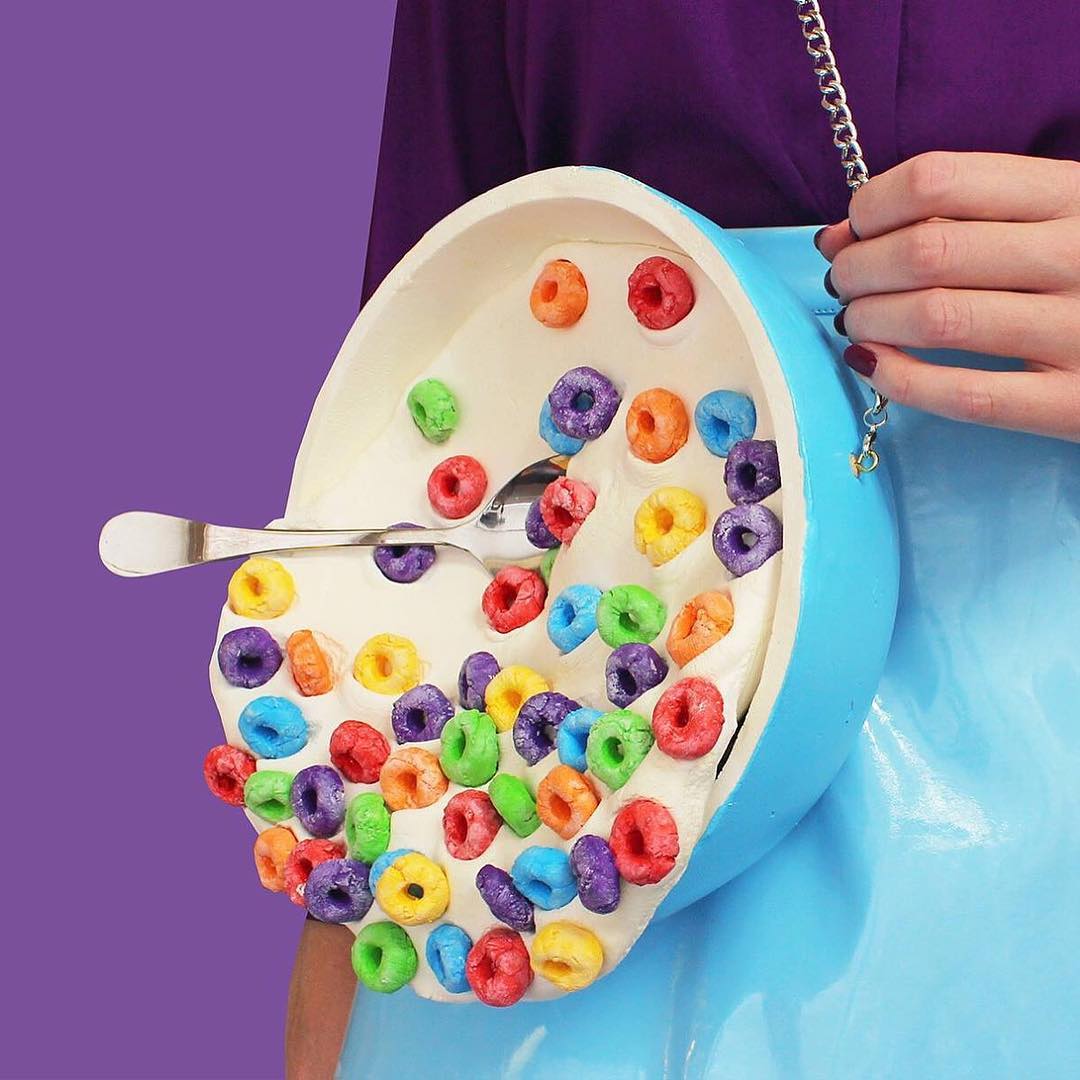 3. An ice cream cone this big in real life would be too much to tackle, but it looks super stylish in the form of a triple scoop purse! The pastels would be perfect for spring, and we feel like this is something Katy Perry would love to get her hands on.
4. Or if you're more of a cake kind of gal, this majestic red velvet masterpiece will make you feel all sorts of things. How perfect is that cream and fruit? Every time you look at your purse, you'll be dying for a slice!
5. For our health nuts and avocado lovers out there, this avo and sunny side up fried egg toast is serious #foodporn as Rommy herself calls it. Gotta stay fit, even when it comes to our accessories! She really nailed the textures and vibrancy of that orange yolk and creamy avocado.
6. When does a cookie not make every situation way better? This nom-worthy M&M cookie purse makes its debut at Central Park in this photo. Those freshly baked, golden brown cracks. Mmm.
7. This cinnamon bun is so realistic, it has us wanting to bake a pan ASAP! Slightly smaller and less outlandish than other designs on here, so this is the perfect starter! Serious artistry right there.
8. Ever wish you were in France, chomping on a delicious baguette sandwich? You can have your own portable loaf here, chock full of veggies, meat and cheese! For those who are truly dedicated to their foot-longs!
9. This British breakfast is so cheeky, and we adore it! She nailed the food choices, and the suspended food is such a mind-bender! We have our fingers crossed that she'll come out with a pancake plate and other international breakfast plates!